P-Cats Tour 2001 photo album:
EASTBOUND CATS!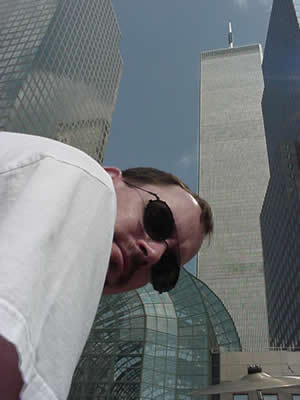 Click on any of the links below, to view thumbnail images from our big trip. You can click on any of the thumbnails to view larger images, and then use the "Next/Previous" buttons to browse all the larger photos in each group. Enjoy!
NOTE: These photos were taken during our June/July 2001 trip, prior to the tragedies of Sept. 11, 2001. We have the fondest memories of NYC "then," and our hearts go out to those lost or affected by the mayhem of NYC "now."
All photos by Jason G., Josh Koterba, EmJay, and assorted Cats
Driving from Omaha, Neb. to Port Clinton, Ohio
A day in Sandusky & Port Clinton, Ohio, with our friends THE FRANKOS
At our hotel in Englewood, New Jersey (across the river from Manhattan)
At the Hudson River Festival (World Financial Center), NYC
Sightseeing before our gig at the Rodeo Bar, NYC
At the Rodeo Bar, NYC
Sightseeing at the Statue of Liberty & Ellis Island, NYC
At Jack's Joint (upstairs of Jack Rose restaurant), NYC
At Yankee Stadium! (NY vs. Tampa Bay)
At Windows On The World (107th floor of the World Trade Center), NYC
At the Clarendon Ballroom in Arlington, Va. (near D.C.)
Driving BACK HOME, from Arlington, Va., to Omaha